They say Christmas is a time for giving.  Please don't forget about EWR during this time.  There are many animals which EWR will be caring for throughout the winter.
These little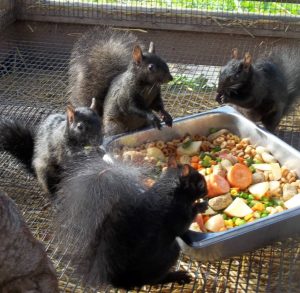 squirrels are among those that came to EWR as orphans, too small to survive without help.  After weeks of being hand-fed, these little guys were introduced to solid foods, and eventually moved to an outdoor enclosure.  As they were not old enough for release before the weather turned cold, and without a mom to provide food for the winter, these orphans must remain with EWR until spring.
Please give generously to support these squirrels, and the many other animals that EWR will care for throughout the winter.  Unlike many other wildlife rehabilitation centres, Erie Wildlife Rescue does not close for the winter; we are here year-round.  Your gift is important to EWR!
All donations are eligible to receive a tax receipt.