Help! I found a baby squirrel, what should I do?
Eastern Gray Squirrels (yes Eastern Grays DO come in brown, black and grey coloring) nest twice a year, early spring and later summer. Eastern Gray squirrels usually have litters of three or four young.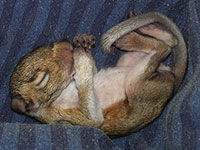 The babies' eyes open at four weeks of age and the young are often out of their nest by six weeks old. At 8-9 weeks of age they are on their own in the wild and no longer nurse from the mother
Is the squirrel fully furred with it's eyes open, has a fully fluffed out tail (like a bottle brush) and appears bright-eyed and unharmed?
If YES, baby squirrels whose tails are fully fluffed out like a bottle brush and weigh more than 6.5 ounces are on their own in the wild and do not need human intervention.
If NO, and the baby is under 6 ounces and the tail is flat or not quite full and may seem friendly, the squirrel still needs nursing and care from it's mother. For very small squirrels, attempt to locate the nest (big ball of leaves at the top of a tree or usually in an attic or eaves-trough) and try to either place the baby in the nest or try to get it to climb up to it. Check back in an hour or so to see if the baby is still there. If the baby has not been fed or attended to for an entire day, then contact a licensed rehabilitator immediately. If the squirrel is old enough to run from you, it does not need human intervention.