Erie Wildlife Rescue(EWR) volunteers are essential to our continued success with raising, rehabilitating, and releasing local wildlife. Your involvement can help us reach our goals. We require people that can assist with administration, animal care, maintenance and fundraising. Do you have a skill or trade? Do you like working with the public and/or with animals? Do you like to bake? Do you have your own car and like to drive? There are a variety of opportunities available to you as an EWR volunteer, and every job is important to our operation. You choose the amount of time you volunteer – whether a few hours per month or a few hours per week.  If you are able to donate some time, please give us a call and talk to our Volunteer Coordinator at the Centre at (519) 735-3919 and ask about the next Orientation.
In Centre Care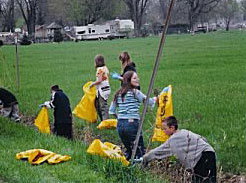 The Centre operates at 11168 Tecumseh Rd. E, Windsor, ON N8R 1A8. During the year, the Centre is open 7 days a week and is staffed by Animal Care volunteers. We need people to help with animal care, but also with Reception and Administrative tasks.
Home Care
Young animals which require frequent feedings may be placed in volunteer's homes for foster care. After spending some time learning the basics at the EWR Centre, you may receive instruction on the care of a particular species, and become a part of the Fostering team.  A housing area separate from your family living space is needed i.e. separate room. EWR membership is also required. Please give us a call at the Centre at (519) 735-3919 for more information.
Publicity/Public Relations
Erie Wildlife Rescue publishes a quarterly newsletter, Tails From The Wild Side, which features EWR news, and information about wildlife issues.
Special Events/Fundraising
We are always in need of extra hands to help with the on-going business of Erie Wildlife Rescue.
Call 519-735-3919 to ask about the next Orientation for New Volunteers!