Thank you for considering a donation to Erie Wildlife Rescue. EWR volunteers work hard to cover expenses through bingos, yard sales, bake sales and other EVENTS. EWR receives no operating funds from the government. With your financial support Erie Wildlife Rescue will continue to provide quality rehabilitative care for wildlife, and assistance for the public with wildlife concerns.
Receipts will be issued for donations over $25
B.N.  13522-6876-RR0001
YOU CAN MAKE THE DIFFERENCE IN THE LIVES OF THOUSANDS OF ANIMALS!
Please take a few minutes to MAIL a donation TODAY to
ERIE WILDLIFE RESCUE
11168 Tecumseh Rd. E.
Windsor, ON N8R 1A8
Make cheques payable to:  ERIE WILDLIFE RESCUE
or
send an E-TRANSFER to ewr@bellnet.ca
or
Give ON-LINE by clicking the image below to visit canadahelps.org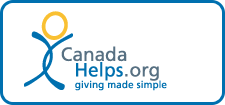 ---

EWR has joined Charity Car! CharityCar.ca has joined up with GreenVehicleDisposal.com to utilize its eco-friendly recycling technology and will accept the donation of old vehicles on behalf of Charity Programs across Canada. Why not put your old vehicle to a good use that helps save the planet and also helps EWR.
Charity Car takes any used car, truck or van, provides free pick-up and lets you choose which charity you would like to donate to: EWR! They handle all the forms for you, thereby making the entire disposal and donation process as easy as possible. You will receive a tax receipt from EWR for the donation. Call 1-877-363-6354 or go to www.CharityCar.ca to request a vehicle pick-up. 100% percent of the proceeds of your vehicle will go directly to EWR.
---
ANOTHER WAY TO SUPPORT ERIE WILDLIFE RESCUE!

These days, you can purchase almost anything online. Talk about convenience! However, did you know that you can now support whichever cause YOU want, simply by shopping online through www.shopandshare.ca? That's right – YOU choose what you want to buy & YOU choose which charity or non-profit group you want us to donate a portion of the proceeds to.
'Shop and Share.ca' has partnered with many big-name stores to bring you the best deals around, quality products, and exceptional value. The prices are the same, the quality is the same, everything is the same – except that 'Shop and Share.ca' will donate a generous portion of the proceeds from each and every purchase you make all year long.
'Shop and Share.ca' has worked hard to make sure you have access to all the products you know and love, as well as new ones you may not have tried yet.
This is your chance to make a difference in your community & show that you care. Every purchase generates automatic donations and every little bit helps! There are NO fees & NO pressure to sign up for anything. Simply go to www.shopandshare.ca today to start shopping and show your support!