Networking is an important resource for every wildlife rehabilitator.  Important contacts are made within the rehabilitation community, as well as with groups and individuals with similar values who are not directly involved in wildlife rehabilitation.  EWR is fortunate to have many colleagues and acquaintances, and took the opportunity to reach out to many of them this past season.
Some of the many new friends that EWR made this year were from the Windsor Peregrine Falcon Watch Team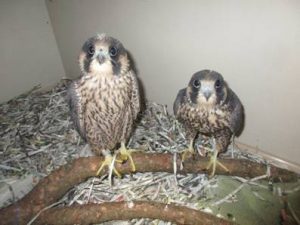 who monitor the Peregrine Falcon nest at the Ambassador Bridge.  Every year these dedicated volunteers keep tabs on the nesting activities of the birds, and during the fledging of the youngsters, they are on location from dawn to dusk to make sure the young birds are kept out of harm's way.  This usually means relocating them when they land in high traffic areas where the fledglings are in real danger of being hit by passing vehicles.  In 2016, five of the birds were caught while on the ground, and briefly stayed at the EWR Centre.  One of the fledglings required a trip to the veterinarian, and x-rays to rule out a fracture of the wing.  Fortunately the bird received a clean bill of health, and after being banded by a member of the Holiday Beach Migration Observatory, it was returned to the bridge area.  During the course of a week, EWR was fortunate to assist with housing and banding all of this year's Peregrine chicks.  This activity was especially poignant, as last year EWR had the privilege of caring for their mother when she was injured herself.  So glad we were there to help.  Keep up the great work Windsor Peregrine Falcon Watch Team!
While getting acquainted with the Peregrine people, Dennis and Gwen P. offered to transport a number of young Canada Geese to the Jack Miner Foundation in Kingsville.  Thanks to Dennis and Gwen for their help and the use of their trailer.  EWR also had occasion to call upon Bob H. from Holiday Beach Migration Observatory later in the season to assist with identifying a hawk, and to band two Cedar Waxwings and a Cooper's Hawk prior to their release.  Thanks Bob.  I'm sure we'll be in touch again!
The Jack Miner Foundation has been a great friend to EWR over the years.  Although their focus is primarily migratory waterfowl, they assisted with the placement of a non-native Chukar this year, took in a group of Canada Goose goslings which were victims of an oil-spill, and also took a young Turkey to be released into the flock which frequents the sanctuary.  EWR also called upon the Jack Miner Foundation for several waterfowl which could benefit from the large pond on their premises.  Thank you to Joe V. and everyone at the Jack Miner Foundation for their assistance.
Another group with whic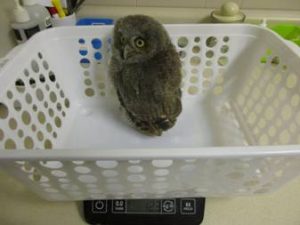 h EWR has a working relationship dating back several years is The Owl Foundation located in Vineland.  This organization specializes in the rehabilitation of owls and other raptors.  They have a number of non-releasable birds which act as foster parents, raising orphaned chicks which are then released.  This year, EWR sent a very young Screech owl to The Owl Foundation, where it was cared for by a non-releasable adult and in the company of four other owlets.  When the bird was returned to EWR for release in September, it was fully of spunk and more than ready to handle the challenges of life in the wild.  Thank you to The Owl Foundation.
Transporting animals to another facility for specialized care is vital to the successful release of some animals, and EWR recognizes that sometimes it is best to leave it to those experts.  EWR utilized the services of another fellow rehabber this year when four Chimney Swifts were transported to Swift Care Ontario in Komoka, specializing in insectivorous birds including Chimney Swifts, Barn Swallows, Bank Swallows, Eastern Whip-poor-wills and Common Nighthawks.  These species require frequent feedings, and some, like the swallows and swifts, must be released into established colonies.  Thank you to Swift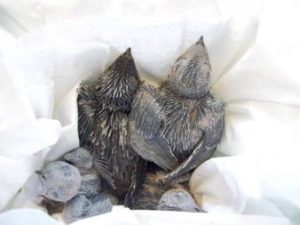 Care Ontario for offering their expertise.
Sometimes all that is required is a quick phone call to a good friend for some much needed information on those animals which we don't often see at EWR, assistance in obtaining supplies, or finding an appropriate release site.  Thanks go out to Judi D. of SOAR (Songbirds Only Avian Rehabilitation) in Rockwood, Brian S. of Salthaven in London, Peggy J. of Heaven's Wildlife Rescue in Oil Springs and Don P. of Windsor for their support .  Our newest collaboration  has been with Speaking of Wildlife, a licensed and OSPCA inspected Wildlife Education Centre who has offered the non-releasable Stinkpot Turtle a home.  Last but not least, we would like to acknowledge our friends at the Ojibway Nature Centre for their assistance to EWR.  The naturalists Karen C. and Tom P. are always willing to help with our inquiries.
As you can see, Erie Wildlife Rescue relies on many people to offer comprehensive care to the orphaned and injured wildlife in Essex County.  Summer students are a valuable source of energy and manpower for our busy summer months.  Thank you to the Canada Summer Jobs and the Focus on Youth grant programs for their partnership.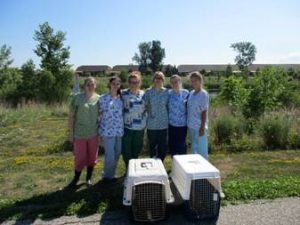 But I haven't mentioned the most important people…YOU.  EWR is a volunteer-based organization and we rely on you, the members and volunteers, to help us to carry out this very important work.  Whether your involvement is volunteering at the Centre, fostering, assisting with bingos, working the sales and fundraisers, or sending in a donation, your participation is very important to the successful rehabilitation of the wildlife in our care.  Keep up the good work!