Erie Wildlife Rescue Fall On-line 50/50 Raffle
November 6, 2023 – November 30, 2023
YOUR TICKET PURCHASE CAN SAVE A WILD LIFE! EWR cares for injured wildlife year-round!
Throughout the fall and winter EWR will be caring for numerous squirrels which came in during July, August and September, and which are too young to survive a winter on their own. EWR will also continue to accept animals which are injured or in distress during this time. Your support is needed to give these animals the care they require throughout the upcoming winter months.
EWR does NOT receive operating funds from the government. Every contribution is valued.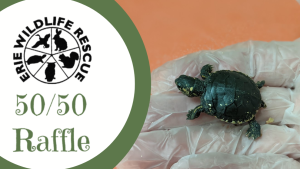 Save a wild life; purchase your tickets TODAY @ https://www.rafflebox.ca/raffle/eriewildliferescue
Ticket Sales will begin at 6:00 am on Wednesday, November 1, 2023 until closing at 11:59 pm on Thursday, November 30, 2023. Draw to take place on Friday, December 1, 2023 at 3 pm at 11168 Tecumseh Rd E, Windsor ON.
The winning prize will be half of the sales.
Licence # RAF1353547