Summer Job Deadline #1
ALL APPLICANTS MUST BE BETWEEN 15 AND 30 YEARS OF AGE, H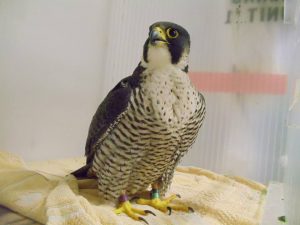 AVE BEEN REGISTERED AS A FULL-TIME STUDENT IN THE 2016-2017 ACADEMIC YEAR AND INTEND TO RETURN TO SCHOOL ON A FULL-TIME BASIS IN SEPTEMBER 2017.
APPLICANTS MUST BE A CANADIAN CITIZEN, PERMANENT RESIDENT, OR HAVE OFFICIAL REFUGEE PROTECTION STATUS, AND BE LEGALLY ENTITLED TO WORK IN CANADA. 
Qualifications:  Ability to work without supervision.  Dependable.  Ability to follow through on instructions.  Good organizational skills.  Good problem-solving skills.  Volunteer experience with EWR an asset.
Job Description for Animal Care Assistant:  Animal husbandry and management tasks; providing for the needs of the animals housed at the Centre i.e. feeding and cleaning, some medical treatments. Recordkeeping. Some Administration duties.  Some Building Maintenance duties.  THREE POSITIONS AVAILABLE
Job Description for Administration/Animal Care:  Assisting with administration of EWR activities including preparation of EWR animal care documents, filing, and research of animal care topics.  Animal husbandry tasks. Record-keeping. Public relations; direct contact with public submitting wildlife for care and answering telephone inquiries.  TWO POSITIONS AVAILABLE
Job Description for Building Maintenance/Animal Care:  Simple repairs and construction projects to assist with EWR operations. Grounds maintenance. Janitorial duties. Some animal husbandry tasks as required.  ONE POSITION AVAILABLE
Training provided.  Hours per Week:  30       Duration:  8 weeks        Wage:  $11.50-$11.60        Start Date:  Varies
Application Process:
Submit resume to:   Erie Wildlife Rescue
11168 Tecumseh Rd E
Windsor, ON  N8R 1A8   OR  ewr@bellnet.ca
Deadline for applications:
#1.....May 31, 2017
#2....June 30, 2017
Inquiries:  Contact EWR by leaving a message at (519) 735-3919 or by email at ewr@bellnet.ca.
Be sure to include your name and telephone number and/or email address.
Those applicants not selected during the first round will automatically be considered for the second round.  We appreciate all submissions, but only those selected for an interview will be contacted.
JOBS MADE POSSIBLE THROUGH FUNDING FROM THE CANADA SUMMER JOBS PROGRAM.